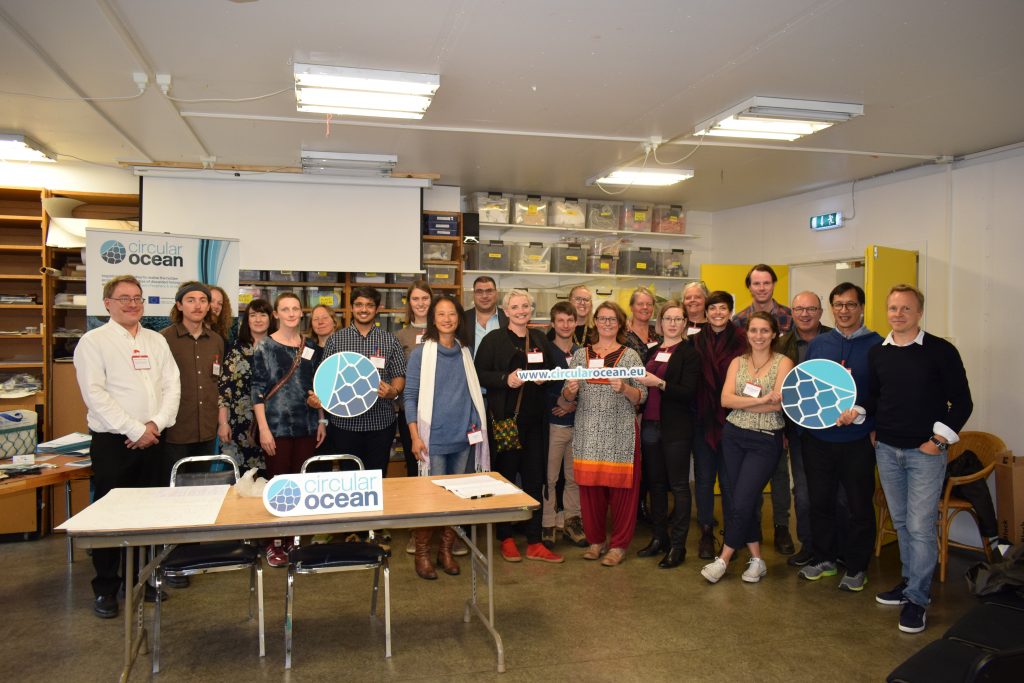 The award winning transnational European Circular Ocean Project brought it's unique eco-innovative thinking to Reykjavik, Iceland this month for a two day Innovation Conference, in conjunction with Innovation Center Iceland and the Reykjavik School of Visual Arts. Tackling the issue of marine plastic pollution in the Northern Periphery & Arctic Region, the event gathered project partners with members of the academic, creative and business communities to explore opportunities around re-purposing waste Fishing Nets & Rope (FNR's).
A group of over thirty international delegates gathered at Innovation Center Iceland (ICI) on Monday, July 17th to learn about the challenges surrounding management of end of life fishing gear and the opportunities for recycling and reuse. Project partners from Scotland, Ireland, Norway and Greenland outlined their findings on current management practices for FNR's, before sharing details of their research work. Circular Ocean is investigating various potential applications for FNR's in areas such as wastewater treatment, 3D printing, as a reinforcement material in the construction sector and as a replacement for virgin polymers in aquaculture.  Guest speaker Christina Dixon of Global Ghost Gear Initiative outlined the dangers associated with ghost fishing gear and the positive measures that are being implemented by their members. The morning concluded with an enlightening series of "Express" presentations came from the Marelitt Baltic project, Avanti Environmental Group, the Food and Agriculture Organisation of the United Nations and the Future Fishing Net Project at ICI bringing the morning to a close.
The afternoon saw Circular Ocean's second "Scenario Exploration Session (SES)" led by Dr. Laurent Bontoux from the EU Policy Lab and supported by project partner Professor Martin Charter from The Centre for Sustainable Design. Delegates were invited to adopt the role of an SME involved in recycling or reuse, a fisheries agency, a harbour master or a fisherman, to explore future scenarios, the value of collaboration and the ultimate impact of external economic and social factors. The approach for the workshop has been developed from a two year foresight study on the future of eco-industries and eco-innovation in Europe to 2035 and builds on a successful session held in Cork, Ireland earlier this year. Read more about our SES event on the European Commission website here
The Reykjavik School of Visual Arts provided an inspiring backdrop for the #Net_Hack_Challenge on Tuesday, July 18th, as participants were asked to seek out creative solutions to a series of challenges surrounding management of FNR's. The second in the series of Circular Ocean's #Net_Hack events was led by project partner, Professor Martin Charter. The model was first developed and executed in Farnham in November 2016, which resulted in a collection of innovative product concept prototypes. The result was five original product concepts, the winner "Rubbfish" – a marine litter collection bag & educational programme, designed to encourage schoolkids to collect beach rubbish. Full details of all product concepts will be available to view on the Circular Ocean website (www.circularocean.eu/news) very soon!
If you are an individual or SME interested in progressing these concepts or if you have a business idea involving reuse or recycling of waste FNR's, Circular Ocean would like to hear from you! The project is designing a Green Economy Business Suite to highlight the prospective economic opportunities around reuse of waste nets, whilst promoting the concept of circular economy and eco-innovation. Contact us at info@circularocean.eu
Funded under the ERDF Interreg VB Northern Periphery and Arctic (NPA) Programme, the focus of the Circular Ocean project is to seek opportunities for recovery and reuse of waste fishing nets & rope, with a view to benefiting local economies.  Partners involved in the Circular Ocean project include the Environmental Research Institute of the North Highland College UHI, Scotland; Macroom E, Ireland; The Centre for Sustainable Design, University for the Creative Arts, England; the Arctic Technology Centre, Greenland and the Norwegian University of Science and Technology in Norway.