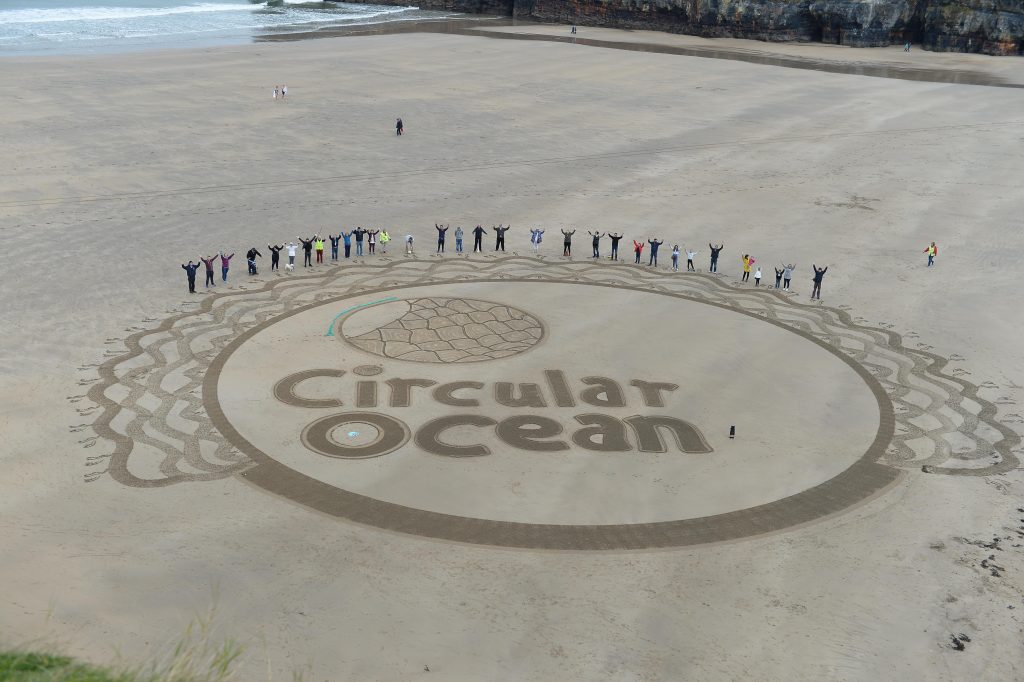 The European Circular Ocean project joined forces with Clean Coasts and Ballybunion Tidytowns this weekend as part of an international movement to combat marine pollution. The "Big Beach Cleanup" saw over thirty volunteers gather at Lady's Beach in Ballybunion on Sunday, September 17th, including representatives from surrounding communities and tidy towns group.   Local transition year students were also on hand to undertake a marine litter survey, results of which will be released by Clean Coasts. From initial inspections most of the litter haul consisted of plastic marine debris, with fragments of fishing net and rope being particularly pervasive. It was an early start for local sand artist Mario Perez, whose wonderful creation sparked lots of discussion on the Circular Ocean project and the detrimental effects of waste fishing nets and rope on our ecosystems.
Funded under the ERDF Interreg VB Northern Periphery and Arctic (NPA) Programme, the Circular Ocean project seeks to examine the opportunities for recovery and reuse of waste Fishing Nets & Rope, with a view to benefiting local economies.   In addition to highlighting the environmental impacts of waste Fishing Nets, the project is currently undertaking various streams of research into the potential applications of nets in areas such as wastewater treatment, 3D printing and as a reinforcement material in the construction sector. Circular Ocean is also offering support to SME's with a view to highlighting the prospective economic opportunities to SME's in establishing a product/business utilising waste nets, while promoting the concept of circular economy and eco-innovation.
Irish partners to the Circular Ocean project "Macroom E" were delighted to have the opportunity to unite with Clean Coasts this month, as groups throughout Ireland gathered this month to join the movement for litter free seas and be part of the world's largest coastal clean-up event and marine litter survey.  To date nearly 12 million people and counting have been part of "The International Ocean Conservancy Coastal Cleanup". Nearly 800,000 volunteers in over 90 countries removed 8,193 tonnes of marine litter from the world's oceans in 2016 alone!