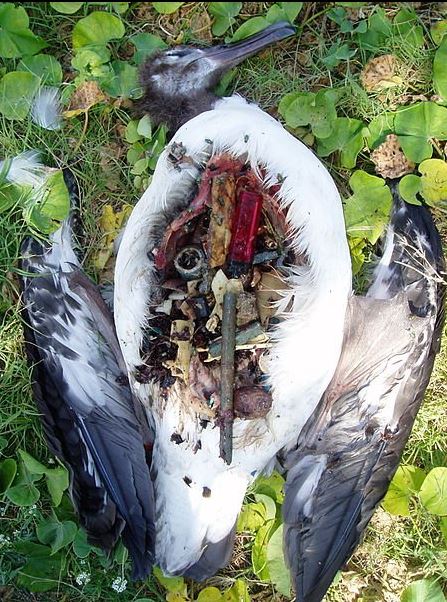 New research released by Circular Ocean has highlighted the threat marine plastic pollution poses to seabirds in the northeastern Atlantic region. Researchers found that, of 34 seabird species investigated, 74% have ingested plastic. The paper, published in the journal of Environmental Pollution, was written by our partners at North Highland College UHI's Environmental Research Institute, part of the University of the Highlands and Islands, along with the RSPB Centre for Conservation Science. The authors collated data from all known studies reporting instances of plastic ingestion and nest incorporation in seabirds around northern Europe, Scandinavia, Russia, Greenland, Svalbard, the Faroes and Iceland.
Dr Nina O'Hanlon, a seabird ecologist at the Thurso-based Environmental Research Institute, was one of the scientists who worked on the project. She explains: "Marine plastic pollution is an increasing and global environmental issue which poses a major threat to marine biodiversity. The production of plastic continues to rise with millions of tons entering the oceans each year. Seabirds can ingest plastic, become entangled in it or incorporate it into their nests, causing impacts which may have negative consequences on reproduction and survival."
Dr Alex Bond, RSPB senior conservation scientist, said: "The northeastern Atlantic Ocean is home to internationally important breeding populations of seabirds and an amazing array of other marine life. Solutions to plastic pollution in the oceans require concerted action at its source on land – 80% of marine litter is thought to come from land – especially by producers and users.
"The properties which make plastics desirable are the very things which make it problematic," Dr Bond continues. "Due to its low cost, approximately half of all plastic items are produced for single-use. Plastic never breaks down, it only breaks up, into smaller fragments which remain in the environment and, as its density varies, it can be found throughout the water column, increasing the number of species which come into contact with it." While the team's research highlights some concerning statistics, its report concludes that more coordinated, comprehensive and detailed investigations are required on plastic ingestion and nest incorporation to assess the full impact marine plastic is having on seabird populations.
Dr O'Hanlon explains: "In the northeastern Atlantic Ocean, an area of international importance for seabirds, there has been little effort to better understand how marine plastic affects different seabird species over time and regionally. We actually know very little about the current prevalence of plastic ingestion and nest incorporation for many species, several, like the Long-tailed Duck and Atlantic Puffin, which are globally threatened. Only 49% of the 69 species which are commonly found in the region have been investigated for plastic ingestion. We believe it's vital to have a multi-jurisdictional, coordinated and collaborative effort to gain a more comprehensive and current understanding of this important issue."
Full papers are available on our research page here or for more information about the published report contact Nina O'Hanlon at North Highland College UHI's Environmental Research Institute at nina.ohanlon@uhi.ac.uk