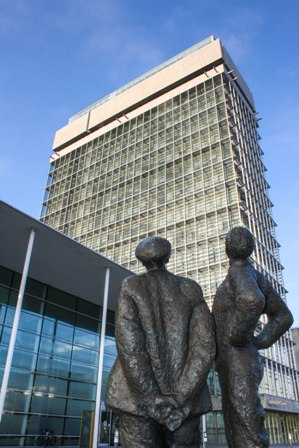 Date: 4th September 2018
Location: Vertigo @ County Hall, Cork, Ireland
The last of Circular Ocean's public events will take place from 9:00am on Tuesday, September 4th in Cork, Ireland, hosted by Cork County Council Initiative and Irish project partners "Macroom E".
The half day seminar will delve into the harsh realities of marine pollution, bringing together a selection of experts directly involved in initiatives that work to combat the dangers of marine plastic, while also introducing potential solutions for reuse, recycling or reprocessing of end of life fishing net material, uncovered by the project's international partners. Guest speakers will include representatives from Volvo Ocean Race, Ghost Fishing International and Clean Coasts. MC for the morning will be critically acclaimed comedian, columnist, broadcaster and Clean Coasts advocate Colm O'Regan.
Circular Ocean project partners from the Environmental Research Institute (Scotland), The Centre for Sustainable Design (England), Norwegian University of Science & Technology (Norway) and The Arctic Technology Centre (Greenland) will present their research on the detrimental effects of marine plastics, while also exploring a series of potential  solutions for re-purposing waste Fishing Nets & Rope.
News, Gallery and Presentations from the event are now available here
| | |
| --- | --- |
| 08:30 – 09:00 |  Registration |
| | |
| Session One: | The Problem of Marine Plastic & Waste Fishing Nets |
| | Welcome & Introduction to Circular Ocean – Julie Crowley, Macroom E |
| | Racing for Ocean Health – Lucy Hunt, Volvo Ocean Race |
| | Threat of Marine Plastics to Seabirds in the NPA Region – Lee Heaney, Environmental Research Institute at North Highland College (Scotland), |
| | Clean Coasts – Strategy to Reality – Sinead McCoy, An Taisce |
| | |
| 11:00  | Coffee Break |
| | |
| | |
| --- | --- |
| Session Two: | Looking Towards Solutions for End of Life Fishing Nets |
| | Developments at EU Level – Deirdre Clune MEP |
| | Ghost Fishing – The Unseen Truth – Pascal van Erp |
| | Reuse of Fishing Nets in Construction Materials – Ida Bertelsen, The Arctic Technology Centre |
| | Using System Analysis  to Evaluate Fishing Gear Resource Management – Dina Aspen, Norwegian University of Science & Technology |
| | Local Eco-innovative & Circular Solutions – Martin Charter, The Centre for Sustainable Design |
| | |
| 13:05 | Close & Lunch |
Register Here